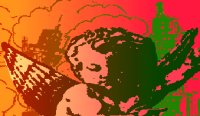 THE JETTISOUNDZ STORY
William John Bentham
(Originally written 1992 / Updated 2012)

I remember it well, a sunny afternoon in 1982. Karen and I had decided to go for it !!! It wasn't long before we discovered how difficult it was to earn a living managing local bands "One Way System" & "Zanti Misfitz". The "System" got off to a good start by being signed to "Anagram Records" and quickly made their way into the independent chart, whereas the "Misfitz", although signed to Mike Stone's "Clay Records", had many disappointments trying to gain attention. We eventually found a way to make a semi-professional video for the bands new single, which gained them a prime time TV spot on North West show Granada Reports. This didn't turn the act into pop-stars, but it did give us an idea for the future.
With the help of friends Russell Ingham & Steve Loach, we ended up with a very basic one camera film of the "Up Yer Tower" Punk gig in Blackpool. "GBH" headlined the gig with their album at No.10 in the UK National Chart. Whilst I felt certain it was a worthwhile exercise, we were unsure what to do next and reluctant to risk £30 we didn't have, on a "Sounds" mail order advert. People were telling us that Punks didn't have the money to buy video's and we wouldn't sell any !!!!
Then out of the blue a guy from Bolton called, asking if we knew a mail order company in Blackpool. He and his friend had sent money for Sex Pistol's videos that didn't exist. This was incentive enough and we took the advert. By the next Friday we had 5 orders and needed to find a way to make copies. The Jettisoundz Video label was born.
Then we filmed "Nico" in Preston at a Punk club. It just happened, it was Russell's Club ! It was one camera and a bit shaky, but an historic record and eventually released as a collectors issue. Next up was "One Way System" and "GBH" playing at the Ace Brixton, all filmed on borrowed VHS equipment. When the gig finished I checked the recording only to find the sound totally unusable. Nightmare !! So I looked for the Punk I'd seen earlier with a tape recorder. He accepted the bribe and I ended up with a soundtrack. In fact it was so much better than what we'd been getting into a VHS system that I bought a serious Sony Walkman and recorded the next batch of gigs that way.
The video label developed. Barry Gold called to say that if we could make covers for the videos he could wholesale them to the shops. Karen's artwork skills came in very useful as we introduced some packaging and moved on from hand written cassette labels.
It's interesting to note that at this time there were virtually no music video labels, with the majors reported as saying it could not be profitable. Along with Factory's "Ikon" and Paul Smith's "Doublevision" we were proving them wrong and setting the pace
I found a way to buy a VHS camera and recorder and during 1983 recorded a whole burst of gigs. We filmed a lot of Punk bands such as "The Exploited", "The UK-Subs" and "Peter & The Test Tube Babies"; along with material that wouldn't surface until later like "The Go Betweens". Our first multi-camera release "GBH Live at Victoria Hall", licensed from "Clay Records" got things moving sales wise, and entered the Top 5 of the newly formed video chart.
Things moved very fast from here on in. Via an old acquaintance Steve Hill, we discovered how to make two live cameras mix together onto one 3/4" master tape. So out we went. Three of us in a little red van. Karen and I did cameras whilst Steve vision-mixed and looked after the recording. With acts such as Alien Sex Fiend, Meteors, Chelsea, DOA, Black Flag & Hanoi Rocks, along with an amazing weekend filming what was to be the last "Stonehenge Free Festival".
| | |
| --- | --- |
| Early in 1984 we'd filmed the UK-Subs for a second time which led to some encouraging comments from the bands manager Richard Bishop who also looked after Hanoi & Robyn Hitchcock. Richard suggested we talk to Hawkwind. Nicky O'Toole stepping in to help one day in 1984. | |
The high spot of the year was undoubtedly the production of the first "Hawkwind" video 'Night of the Hawks'. We stayed up all the previous night making new video cables to run four instead of two cameras, drove to London for the extra cameras and film school crew making it to Ipswich for the gig at 4pm on the Friday. The gig was filmed in the most chaotic way, but it worked. We didn't have to get the cameras back until Monday so I got on the phone Saturday morning and we ended up doing "Ligotage" in Birmingham that day and "Screaming Lord Sutch" in London the day after. Not much sleep was had at all.
The Hawkwind tape was a milestone in that it was the first of our videos to feature conceptual, or made up footage along with the music. The problem was that there were long periods of darkness in the live master tape and something had to be done about it. So I created footage in a variety of ways, including some incredible staggered sequences discovered accidentally whilst rewinding the master tape through a time base corrector. The finished release resulted in our best selling tape to date, a No.1 in the video chart and some rave reviews in the music press.
A friend of mine in St.Annes, Tony Beck, had opened a recording studio called The Boiler House. His old school friend "Roy Harper" moved back to the area and began work on his new album. Tony encouraged Roy to re-new an old acquaintance and within a short time had "Jimmy Page" working alongside him on what was to become the "Jugular" album. This was followed up by a series of live gigs, four of which we filmed. The footage still sits in the archive !
We'd filmed the Toy Dolls at a gig in Blackpool and didn't have enough good footage for a live release, which was a rare occurrence. So off we went to Sunderland with one camera and went through the bands album, track by track and location by location. The final track was filmed in their rehearsal room and I said "there's probably enough tape for another" and Olga replied "Oh, we'll do Nellie then". We didn't really take it seriously, but ended up with a pretty entertaining clip.
Christmas 1984, "Nellie The Elephant" had been re-recorded and was No.4 in the national chart. We ended up with the clip on the, then new, network of video jukeboxes and it worked out as the no.1 choice for December (just for the laugh we suspect). Anyway the exposure and new contacts did prove to be another step forward.
| | |
| --- | --- |
| | Karen Bentham - video director to the worlds left field stars. Karen decided to turn her hand to video clip directing and editing around this point. Most of the promos on "Blood on The Cats" are the result of this initial work from Karen. I did very little editing from now on, although I did continue to do camera for a long time !! |
We'd got to know a guy from London called "Joly" who had moved to Los Angeles and was working for a promoter bringing in UK Punk bands. He was really into communication's saying he'd moved to LA to find out about the Bulletin Board scene. So we got on. One Way System got some shows out there and off we went. Joly introduced us to "Flipside" who were making amazing low budget recordings of the West Coast Hardcore scene. We came home via San Francisco with our first non-music release, a performance by industrial artists "Survival Research Laboratories".
Making it into 1985, the next notable step was Robyn Hitchcocks "Hen" video. Based on filming of a live gig at the old Marquee, it uses much super 8 film along with additional music and footage to create an extremely diverse and interesting piece. By this time we'd got our own professional camera equipment and were taking the general content of our work a lot more seriously. The approach for live filming changed eventually as we moved away from live vision-mix to recording all the camera's individually and doing the edit later. We usually worked with three cameras and rather that a professional team, used friends with little experience who were plumbers, gardeners or the like. The key was for them to have an active interest in music. By taking this tack, we felt we were producing more abrasive and watchable music TV than the broadcasters could get anywhere near.
Although we kept on filming music concerts, we were suddenly making promo video's on Low Band U-Matic and getting paid quite well for it. Karen turned out to have an innovative talent for producing video to make heads turn, examples of which can be found in work for Alien Sex Fiend, Michelle Shocked, The Meteors, Psychic TV, Horse London, 2-Kut, Cud & 808 State".
During 1985 Karen made a fast moving promo for The Cherry Bombz "Hot Girls In Love", which did us more than a few favours at Midem the next January. Within a month we were in New York making promo's for "Relativity Records", with a full diary to follow. We usually got to include clips made on compilation tapes which was a bonus.
"The Zanti Misfitz" had eventually metamorphasised into "The Turnpike Cruisers" having Richard King on vocals and Karen on saxophone. Karen of course made a fair few wild promos for the band which can be seen on "The Trevor Whiteside Showcase". The Showcase was eventually to lead Jettisoundz in a new direction, that of TV producer. In 1987 we decided to make a wacky TV pilot show.
| | |
| --- | --- |
| Filmed in our offices, "The Turnpike's Cable TV Show" was shown in cable areas such as Clyde and Swindon and led to a deal with the newly launched "MTV Europe" to broadcast six half hour shows, the re-titled "Turnpike TV". Manically presented by the Marino Brothers, aka Jim Morrison and Richard King | |
Our love affair with Psychobilly began during 1986. We'd filmed the "Guana Batz" a while back but here we were now at the "Klub Foot" with one camera. There wasn't the money for crew or more camera's as we'd only managed to get five releases so far in the year for the video label and income was down. We had to move fast and get more releases. The tape sold well and we were soon back up to full crew. Over the next couple of years (along with other things), we filmed just about every Psychobilly and Rockabilly band around. There was a realisation that the strength of what we had so far was in its specialisation. Jettisoundz had a niche and should stick to it. But it wasn't always that easy !!!!!
Summer 1988, the first episode of Turnpike TV was duly broadcast on MTV. We were ecstatic. The station had allowed us to build in advertising for the label as sponsor and although there were questions asked by the Cable Authority we were allowed to continue. It was a serious milestone for Jettisoundz and attracted serious attention to the extent of TV reports on Tony Wilsons "The Other Side Of Midnight" and BBC2's "Reportage", along with a quarter page article in the "Independent" newspaper. However it did turn out to be a bit too off the wall for MTV. The series was finished in the December and that was that. It had been incredibly hard work making one episode per month and carrying on business as usual, so off we went in another direction.
Turnpike TV caused Temple Records to contact us about showing some "Psychic TV" material, which led to my meeting "Genesis P.Orridge" for the first time. We got on well and were soon working with the band on a number of PTV releases. Genesis also gave us "Thee Films" featuring "William Burroughs" and introduced us to an associate in the USA where we acquired the "Kenneth Anger" collection of films. Whilst in Dungeness making a promo featuring Gen's daughter Caresse, we met Derek Jarman and subsequently released some of his experimental's along with feature films Jubilee & Angelic Conversation.
I soon realised that experimental and more cult orientated film work was a natural evolution of the niche situation that was our label and set out on a quest to find more material. I entered the British Film Institute with a three page list of films that I was keen to license. The reaction was positive, but I quickly became involved in the BFI's own desire to set up a video label and eventually landed a deal to manufacture and distribute for them. As time progressed the new label started to look more and more serious. What was originally planned as a conservative start evolved into "Sir Richard Attenborough" giving the launch event speech at Sotheby's and "Connoisseur Video" was born. The new label was run from the BFI side by consultant Ian Gilchrist, who was soon joined by video executive Jim Greenhough.
From our end, we needed a more manageable handle for the company's new role and began to trade as "reVISION". Distribution was shifted to the new look "Rough Trade" where we had set up a dedicated video department to deal with sales. This was the first time anything like this had been seen for indie or special interest labels and for a time worked very well. The first batch of Connoisseur releases were films by directors such as Wim Wenders, Pasolini, Jean Cocteau, Orson Welles, Jaques Tati & Roger Corman. Sales peaked with the award winning Aardman Animation film featuring "Creature Comforts". For our part we released such things as Svankmajer's "Alice" and the "Cyberpunk" documentary.
I did carry on filming music shows the 'circus big top' one was a hell of a show. With "Rozalla" headlining and "K-Klass", "Xpansions" & "2 For Joy" playing also. The same year we filmed "Marc Almond" live in Berlin, with manager "Stevo".
| | |
| --- | --- |
| Within a year it was obvious that "Rough Trade" had some serious and deep rooted financial problems which eventually ended very badly. As the distributor floundered, RTM was formed to keep sales moving and we managed to keep the video department in place. RTM Video has since flourished and now has a vibrant and varied group of indie video labels, John Bentham gives up and talks to Mohamad Ali about boxing! | |
As time went on it became clearer that reVision/Jettisoundz needed help to survive the huge losses suffered as Rough Trade closed down. On November 23rd 1992, with new partner Iain McNay, "Visionary Communications" was inaugurated and a new era began with Cherry Red Records in partnership.
The next few dozen were music releases straight from the indie charts, alongside a similar number pulled from our archive, that were special. The next release of any note was the "Hawkwind's - Love in Space", at the Hammersmith Odeon, followed by "Link Wray - The Rumble Man" filmed over 2 days with an interview as part of his tour.
"Holiday In The Sun" was filmed in 1995, for 3 days this was the most significant production to date. To state categorically that it should have sold more is an understatement. The Damned, Anti Nowhere League, Buzzcocks, Slaughter and the Dogs etc.
"Charles Manson Superstar" not needing any help, "Commissioner of Sewers" & "Destroy All Rational Thought" both featuring William Burroughs. "Island of Lost Souls" & "Freaks" were the kind of movies people would be interested in. With a scribe like that directing "Football: The Peoples Game" over two across 7 games.
"Screen Edge" was my thing about the same time "Nothing Like Hollywood" was the cry. I began to do various festivals around the world, looking to acquire film projects for next to nothing. They had to fit the bill, and after a couple years of looking, I had come up with "The Pope of Utah", "The Upstairs Neighbour", "The Frontline", "Cannibal-The Musical", "Spare Me" and "Transgression". We had a launch and it didn't do quite what I had imagined.
Richard King took the helm and acquired "Shatter Dead", "Original Sins" & "The Dead Next Door" in a sort of a direction change fot the label. "Fatliners" was the labels only work, with the edit taking place in our edit-suite by the Smile Orange Team. A full smile was reserved for "Pervirella" played by Emily Bouffante, she took the biscuit with its perverted sex scenes "Barbarella, as if shot by Terry Gilliam".
Cherry Red Records most significant purchase was undoubtedly the Ikon Archive with its powerhouse of Factory giants "Joy Division" & "New Order" which were one thing, along with the "Birthday Party", "The Fall", "William Burroughs" & "The Buzzcocks" from the rest of the catalogue. The 2nd & 3rd purchases from Ikon were a wealth of items un-released. A gradual release of several has seen the light of day with "Cabaret Voltaire", "Divine", "Violet Femmes" & "The Fall".
During 1987, I was involved in quite of strange series of releases called "Ambient". Split into two sub categories and generally with no sound titles such as By The Fireside, The Aquarium & Basil The Parrot meet such thing as Lazergraphics and a Fairground tape.
In 1996, I was approached by someone from Ogilvy & Mather asking was I interested be involved in the shooting of adverts, based around filming odd things such as bowls on a bowling green, following an empty caravan, even using some of our Basil the Parrot video. With a text file coming up on screen saying "This is about as interesting as home insurance gets, for something else, phone now" and some jolly music playing. Generally based on our Ambients, we filmed about 4 shoots, and charged about £25,000 with John Bentham as director.
1997 saw a blast from the past. We were about to spend two weeks in Japan with "One Way System". We had recently had them reformed and out there again, a British guy living in Osaka where the tour was to begin, was behind it. Four gigs, led to Tokyo for three nights, and another three led Hiroshima for the final show. I played bass for the band at the end of that night, and we went round the museum that was based around the atom bomb blast the next day. A freaky experience to say the least,
The next year or so I was getting a little hot under the collar, you might say, the internet was starting to happen, and I felt like a change. So I left Nicky O'Toole and Richard King running Visionary, and I set off downstairs forming another company "Outlaw23". I had my old friend "Chris Webb" as a partner, and set off doing websites for locals generally. A chap called "Ian Gaynor" walked in one day, and announced he was working on something that could become quite big. We were in fact to take him on, and over the next few years had "Kasbah.com" to think about. It was a resource for the travel industry, before search engines were that good at targeting the information, if you wanted to travel anywhere, Kasbah could tell you where to go and what to do.
Then "deckchair.com" got in touch, we'd heard of them fronted by "Bob Geldof", selling airline tickets at reasonable money. What they wanted was some realistic input. Kasbah.com was eventually sold to Deckchair.com for £1Million. A cash purchase of £¼ Million with the rest of it paid as shares. So we set off as Dechchair employees and sorted an office locally, the staff of about a dozen, and got it going properly. After about 18 months it was obviously not going to plan, there was a new boss there now and he called us to London, we were straight into a management meeting about what we were going to do about the situation.
I was now into employment in London for a while, 6 months, Which ended after the xmas break that year, after the boss had time to think about it, decided I was for the chop, and £10k was the pay off. I did get to know Bob Geldof pretty well though
What to do now. This was the question. I went back to basics and eventually decided to go it alone. Deciding to let Cherry Red release all DVDs from now, although they were done by me, a label which included Punk n Disorderly, Exploited, Toy Dolls, Marc Almond etc., which grew into a serious label, 250 strong in the long term, with many releases from our original label and further acquisitions. I kept "Screen Edge", the Jettisoundz movies and a few other things that Cherry Red did not want. The Bedroom, Pervirella, Charles Manson Superstar and William Burroughs were all released by Screen Edge in the USA and UK.
Then to cap it all Pharo.com. The Mystery channel, Convergence Publishing meets In Print, On Line, In Conference and On Television. All Taking place at the Templar Lodge in Edinburgh. It was a big thing with conferences such as War of the Windsors, Templar's Ancient and Modern and Sacred Geometry. We had a film made about Princess Diana and the Alma Tunnel mystery. We had tailor made TV trailer which really made you eyes water. We had a start on digitising books. Unfortunately this was brought to a head by the chap who ran it all "Stephen Prior" contracted cancer and died. This one ended like that
Well in 2003 we all had a ball. That was in Benidorm Spain for 3 days. "Josh Collins" was the organisation behind "The Wild Weekend". 22 bands with headliners, The Atlantics, Saturn V featuring Orbit and The GoNuts. Not to say too much about it other we filmed it for 3 day, make your own mind up.
Well our boys. Some 10 years or so back, Karen had 3 boys who were fine, Will was 12 now and played bass, bob was 10 and Jack was 9 on guitars, they had a drummer, Stuart Newburn who was 14. They'd only been together about a year as "Outl4w" when William saw a piece in Sunday newspaper about a competition for school boy bands. They had just had a piece in the studio done so we sent it off to XFM Radio. Two day later we got a call from them to say the just loved the track. We had sent "Black Flowers" and they had us all on the radio doing a piece. We were suddenly compete ting, big time with other older bands in a school rock competition, which we ended up in the final of with five bands, playing live at the Marquee Club. We came Second.
Not bad for such a young band that we ended up on "Blue Peter" playing the track live about a month later. A good six months later we ended up in another XFM competition, this time to come up with a track that was going to make it for a summer hit. A big surprise. Well we worked on one and submitted "Summer of Rock n Roll", and low and behold we won. Recorded it in London, had Roger Taylor, Queens Drummer, in the studio with us. Along with XFMs Christian O'Connel. Had a jolly time making a video, then Christian appeared on Top of the Pops, blagged it and they played about a minute and a half of it. We appeared in London for a week for the launch, appeared on TV again, played HMV, and in the Virgin Store. "Nick Raymonde" the bands manager turned up mid-week and told of his fears, were met with news that we did not have the sales the back it up. We had only been doing it for half the time necessary.
We got plenty of gigs, did some more TV here and there, went to Japan, Spain, Belgium, Switzerland & Germany. Then in April 2007, I suffered a stroke. Quite a bad one in fact it led to me losing the use of the right hand part of my body, and I lost the means to communicate with even my wife. So it was pretty serious. I was in hospital for 3 months and then allowed home. I was aged 53 and going uphill very slowly. I had to give up smoking and drinking, it's been slow since then, have turned my life around a bit I can tell you.
I managed to recover enough to see "Outl4w" live in Germany, and we managed to film them live with 4 cameras at the wasted festival in Blackpool, I didn't do any of the cameras, I just managed to talk loudly a bit, but the band did not want to do anything with it, apart from sit on it, they would take some time off, start university and after a couple of years break set off again, slightly differently. Not a bad thought.
Its been a while since anything much was filmed, new anyway. Well I had this three day festival in Blackpool to do, "The Tangent", "The Watch" & "Credo" as headliners, "Electric Garden 2011" as the name and we were off…………
John Bentham January 2012